PFAG Contributes to Fight Against COVID 19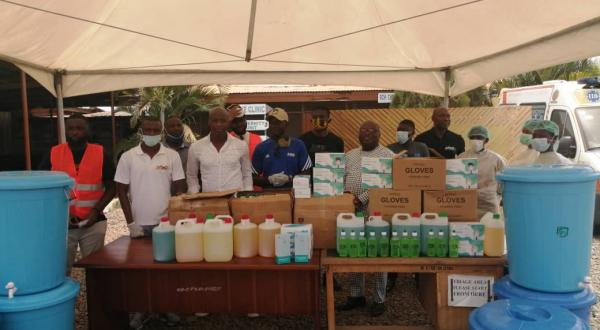 The Professional Footballers Association of Ghana (PFAG), has in collaboration with the Ghana Beach Soccer Association contributed to the country's fight against the Corona Virus pandemic by donating essential items to the Madina Polyclinic- Kekele.
With the novel COVID-19 disease having hit footballing activities hard both domestically and globally, the PFAG in its position as mother body for all Ghanaian professional footballers has taken a front-line role in the country's ongoing efforts at overcoming this worldwide public health issue.
Top-ranking members of the Association including Black Meteors Head Coach Ibrahim Tanko , "Out of Contract Training" Supremo Abubakr Damba and Head of Communications Nathaniel Laryea on Friday paid a visit to the Madina polyclinic to encourage, support and make a significant donation towards the facility's efforts at fighting the disease.
Items donated included disinfectants, soap, gallons of hand sanitizers, as well as face masks, gloves and other essential personal protective equipment.
The PFAG on behalf of all Ghanaian professional footballers stands united with our healthcare providers around the country in reiterating the top three basic keys to staying safe during this pandemic.
We urge all to largely stay at home so as to avoid the risk of infection, to adhere to social distancing protocols and also to continuously wash our hands with soap under running water or use alcohol-based hand sanitizers.
We believe that together we shall win this fight against COVID 19.
The PFAG continues to stand with you and for you!